Perhaps you are looking for a new printer? The Epson NX625 All in One Printer is one you ought to consider. Gone are the days of the basic generic printer that has only one function. Today's printers can do so much more. This helps conserve space, and it also saves you from having to purchase additional devices. To help you choose a new printer, we have done this quick overview of the Epson Stylus NX625 – let's get started!
The Epson Stylus NX625 All in One Printer has the unique quality of allowing you to do wireless printing. It can make an enormous difference in your day, especially if you use your printer on a regular basis to do things like copying and scanning. You don't have to worry about tripping over cables or have them taking up space on your floor or desk. This printer also has built-in Ethernet, which allows you to share the printer with all of your computers. Printing documents, each from a separate computer, can be done now. It is very convenient to own this if you have a small business or home office. Epson Stylus NX625 is a great printer to have regardless of whether or not you want to scan or print documents everyday. Epson is one of the best known names when it comes to printers, and this can be reassuring in case you need to contact support or return the unit for any reason.
The Epson Stylus NX625 comes with a limited one year warranty, as well as a quick product exchange program. If for some reason you need to get a new model, or a different one, trade-ins are very simple with this program. You cannot exchange a refurbished printer, so it is in your best interest to get full protection on a brand-new one. Epson also offers extended protection if you want to buy that as well. When you buy electronic products, always go with a world-renowned name brand like Epson when you want quality and proper support.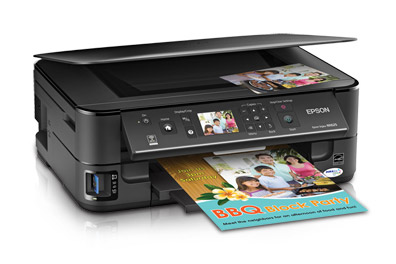 The name of this printer, Epson Stylus – All in One Printer, is a little misleading for a couple of reasons. Although it is called all-in-one, it is really a three in one printer because it lacks faxing capabilities. So if you need to scan anything, or print a document, you are okay. If you have to fax, you'll need another machine. There are many ways to send a fax if you need to, however, since most people don't need to send faxes today, it probably is an unnecessary component to have. However, some people simply assume that an "all in one" type machine will include faxing capabilities, but the Epson NX625 does not.
One printer that is suitable for more than one purpose is the Epson Stylus NX625 All in One Printer, which can also be used as a scanner and a copier. If you want to save paper, it will print two-sided, but other than that it will print a variety of documents and photos at rapid speed. If you are looking for the right printer, it could be the Epson Stylus NX625, as long as you don't need fax capabilities or have a Mac.